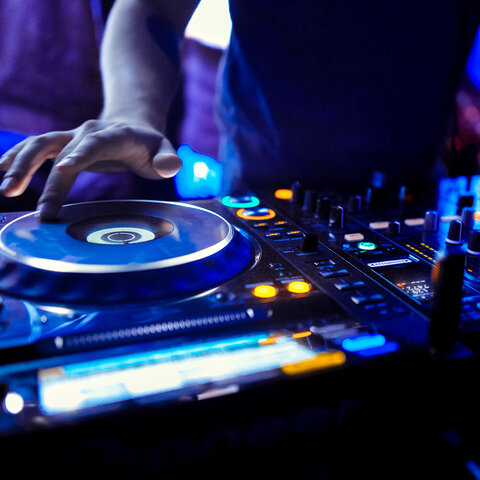 Disc Jockey
From a young age, Dillon Strouse had a passion burning within him—a dream to become a DJ. At just 14, he discovered the magic of mixing beats, transcending boundaries with the power of music. In 2010, despite being born with Cerebral Palsy and being wheelchair-bound, Dillon fearlessly embarked on a remarkable journey by establishing his own business, Strouse Entertainment.
Dillon's physical challenges never deterred his determination. He saw beyond the limitations and focused on the immense possibilities before him. With unwavering resolve, he worked tirelessly to overcome obstacles, adapting his equipment and techniques to suit his unique needs. His wheelchair became a vessel that carried him into the realm of musical bliss.
Strouse Entertainment quickly gained recognition not only for its exceptional talent but also for the inspiring story behind its founder. Dillon's resilience and unwavering spirit resonated deeply with people from all walks of life. His performances became more than just DJ sets; they became powerful narratives of triumph and defiance.
Dillon's boundless passion and undeniable talent allowed him to break through barriers, captivating audiences with his electrifying mixes and infectious energy. His music transcended physical limitations, connecting souls and moving bodies on dance floors far and wide.
Through his journey, Dillon became an inspiration to countless others facing their own challenges. He used his platform to raise awareness about Cerebral Palsy and promote inclusivity in the music industry. He shattered stereotypes and proved that dreams know no bounds, empowering others to pursue their own passions without hesitation.
Today, Strouse Entertainment stands as a testament to Dillon's indomitable spirit and unwavering belief in the power of music. His story serves as a reminder that obstacles are merely opportunities for growth and transformation. Dillon's journey is a symphony of courage and perseverance, resonating with every beat and inspiring others to reach for the stars, no matter what challenges they may face.
Strouse Entertainment is the best choice for your event. Licensed and insured professional mobile disc jockeys at your service. If it's for homecoming, prom, birthday, graduation, banquet, or any other kind of special event, we have all the greatest hits. Top 40, Oldschool, Hip Hop, Alternative Rock, EDM, Disco, Country, Salsa, 70's, 80's and 90's hits, R&B and Oldies. Strouse Entertainment has served Central Pennsylvania for over 12 years, call us for a FREE consultation!