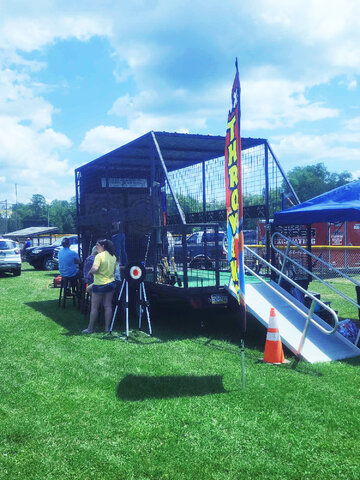 Mobile Axe Throwing (2 lanes)
Test Your Aim with Chambersburg Mobile Axe Throwing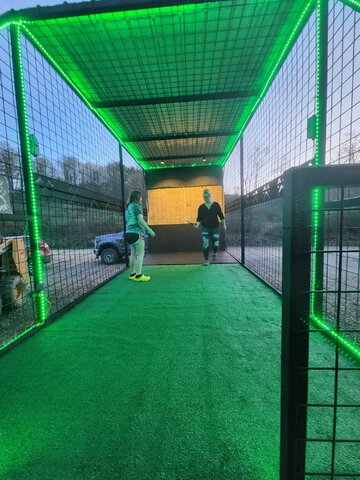 Unleash Your Inner Lumberjack in Our Carnival Axe Throwing Game
We invite you to step into the world of rugged lumberjacks and test your precision and skill with our thrilling axe throwing game. Welcome to the heart-pounding adventure that is taking the carnival world by storm!
What Makes Our Carnival Axe Throwing Game Unique
Experience the thrill of throwing real axes at designated targets in a safe and controlled environment. Our carnival axe throwing game sets itself apart with:
Safety First
Safety is our top priority. Our professionally trained staff will provide you with thorough safety instructions, ensuring that you enjoy your experience with complete peace of mind.
Authentic Lumberjack Atmosphere Immerse yourself in a rustic, lumberjack-themed setting that transports you to the great outdoors. From the moment you step into our Axe throw, you'll feel like you're at a real lumberjack camp.
Compete with Friends and Family
Our carnival axe throwing game is the perfect activity for group fun. Challenge your friends and family to a friendly competition and see who can hit the bullseye!
We even bring a small kid friendly axe and target for the kiddo's!
So any age is welcome!
Expert Guidance
Our experienced axe throwing instructors are on hand to offer tips and guidance to help you improve your throwing technique. You'll be hitting the mark in no time!
Reserve Your Axe Throw today!
Don't miss out on the chance to be a part of this thrilling carnival experience. Book your spot today and join the ranks of carnival-goers who have embraced their inner lumberjack in our exciting axe throwing game.
Contact Us for More Information
For inquiries, bookings, or additional information, please get in touch with us. We're here to make your carnival axe throwing experience one you'll remember for a lifetime.
So, are you ready to embrace your inner lumberjack and take on the challenge of our carnival axe throwing game? Join us for a unique, adrenaline-pumping experience that will leave you wanting more. Call and reserve our mobile Axe throwing and get ready to sharpen your axe-throwing skills in the most authentic, exciting setting around!
We are PROUD to announce that our Axe throw is Wheelchair accessible!