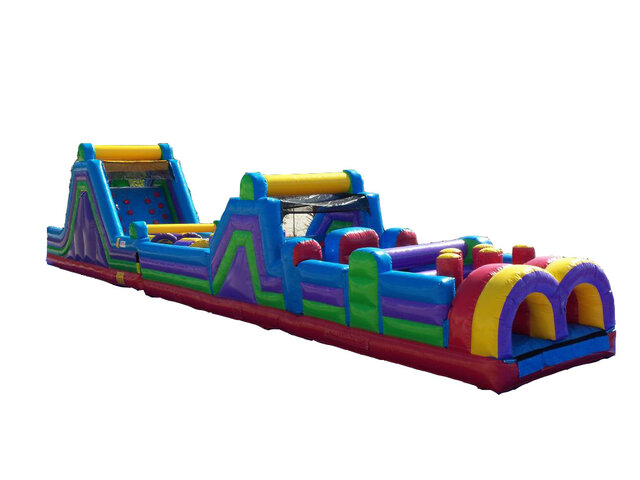 Rock Climb Slide Obstacle Course
Actual Size: 70' L x 10' W x 14' H
Setup Area: 76' L x 26' W x 14' H




Get ready to unleash a whirlwind of excitement with our mind-blowing 70'ft Rock climb slide inflatable obstacle course rental that will make your little ones' hearts race with exhilaration! Prepare for an epic adventure filled with endless thrills and challenges that will have them begging for more.
Picture this: anticipation fills the air as they approach the starting line. With jump-through openings, surprise pop-ups, and log jams awaiting them, they'll be propelled into a world of boundless fun and adventure. But that's not all – brace yourselves for the ultimate test of strength and determination as they conquer the towering rock wall that stands in their way!
This isn't just any ordinary backyard event or school carnival addition; it's an experience that will leave kids of all ages on the edge of their seats. Our 70'ft Rock climb slide inflatable obstacle course ensures non-stop entertainment, captivating their attention and keeping them engaged throughout the day.
Watch as their faces light up with joy and triumph with each obstacle they conquer. From the youngest daredevils to the bravest adventurers, this obstacle course guarantees non-stop action and laughter that will create memories to last a lifetime.
Not only will your little ones have the time of their lives, but moms and teachers will be captivated by the electrifying atmosphere that comes with witnessing their triumphs. The sense of accomplishment and sheer joy that radiates from each child will be contagious, making your event truly unforgettable.
So don't miss out on this extraordinary opportunity to elevate your event to new heights of excitement! Book the 70' ft Rock climb slide inflatable obstacle course rental now and prepare for a day filled with boundless energy, unstoppable laughter, and unforgettable moments that will leave everyone breathless. Let the adventure begin!