Obstacle Courses
Obstacle Course Rentals by Strouse Entertainment
Rent Obstacle Courses by Strouse Entertainment. Strouse Entertainment has been in business for almost a decade providing amazing entertainment including obstacle course rentals near me to the Chambersburg, Shippensburg, State Line, Gettysburg, and Green Castle areas, and many more.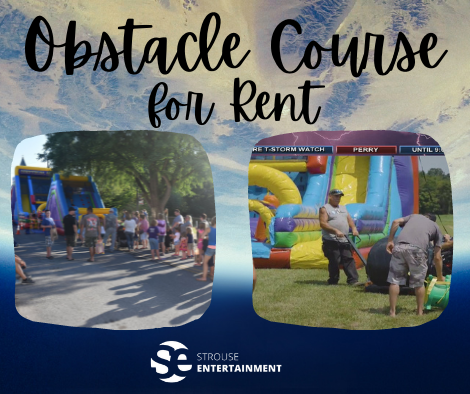 Obstacle Course for rent can give you peace of mind for your party planning when you have tons of guests arriving and are struggling to find something for them to do, this can be your best answer. Keep your guests outside and entertained during birthday parties, graduation parties, and even church events. Kids and adults will love running through the obstacle course rentals filled with challenges and crawling thru tunnels that will excite even your biggest critic. Obstacle Course rentals are fun for every age group. Obstacle Courses near me make it easy for you to find the best obstacle course rentals available for you. Strouse Entertainment offers you obstacles for rent in so many towns like Chambersburg, Shippensburg, Fayetteville, New Castle, New Oxford, St. Thomas, and many more!

Add an obstacle course for rent today and keep it up to 24 hours for fun that will have your kiddos tired and happy. Obstacle course rentals are definitely the best choice for your next party!